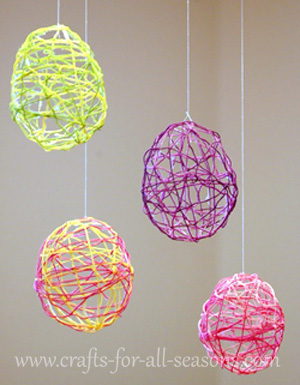 Here's a great idea to create colorful Easter egg shapes that are light as a feather using string and fabric starch.
Materials:
balloons
various colored embroidery floss or cotton yarn
fabric stiffener(fabric starch)
scissors
pin
string
Directions:
Blow up a balloon until only 6 inches long or less. Be sure it is egg shaped.
Cut the yarn into 1 to 2 foot lengths. Put the fabric stiffener into a small cup and dip your yarn thoroughly before wrapping.
Wrap the yarn around the balloon. You should still see the balloon. Allow to dry overnight.
Pop the balloon with a pin and carefully remove the balloon.
Display your string eggs.
Variations:
There are various ways of applying the fabric stiffener. You could dip the yarn in a cup as above, you could put the stiffener in a shallow tray and roll the balloons around, or you could use a spray can type. Put on 3 or four coats.
For display, you could hang them from strings, or on an egg tree. You could place them in small baskets, too. Or you can cut a hole in the side and fill with grass and a small toy as shown. Have fun.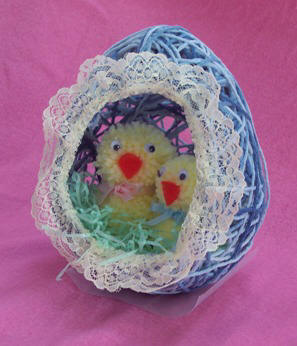 You have read this article Easter / spring with the title Easter Eggs String Craft. You can bookmark this page URL http://joeseoulman.blogspot.com/2012/01/easter-eggs-string-craft.html. Thanks!