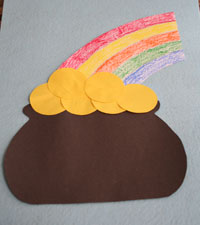 This is a cute pot of gold for St. Patrick's Day
Materials:
Sheet of light blue construction paper

rainbow piece

pot from black construction paper

gold coins from yellow construction paper

scissors

glue
Directions:
Using the template from the All Kids Network website, cut out and color rainbow, and cut out pot and gold coins.

Glue pieces onto blue construction paper.

Visit the All Kids Network for this craft.
You have read this article rainbows / St. Patrick's Day with the title St. Patrick's Day Pot of Gold with Rainbow Craft. You can bookmark this page URL http://joeseoulman.blogspot.com/2012/01/st-patrick-day-pot-of-gold-with-rainbow.html. Thanks!