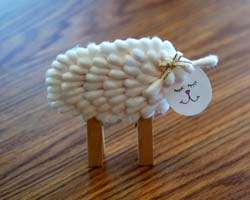 Here's a cute Easter lamb craft using Q-tips and clothespins. It's great for a card holder at your next Easter or sprng party. This takes some manual dexterity and is better for older kids.
Materials:
1 oval from card stock, about 4 inches long for the body
1 small oval from card stock, about 1.5 inches long for the head
lots of Q-tips(cotton swabs)
2 clothespins
tiny ribbon
glue
scissors
pen or pencil
Directions:
Beforehand, cut th tips off Q-tips about 2 inches long.
Put glue all over the boy piece and starting from the back, arange the Q-tips in a pattern as shown. Add more glue on the ends of each layer as you go along. Leave a space at the end for the head.
Draw a face on the small oval.
Glue Q-tips and ribbon on the head as shown.
Glue the head on the body. Allow everything to dry.
Glue 2 clothespins on the back for legs.
You have read this article clothespin / Easter / sheep / spring with the title Easter Spring Lamb Clothespin Craft. You can bookmark this page URL http://joeseoulman.blogspot.com/2012/02/easter-spring-lamb-clothespin-craft.html. Thanks!